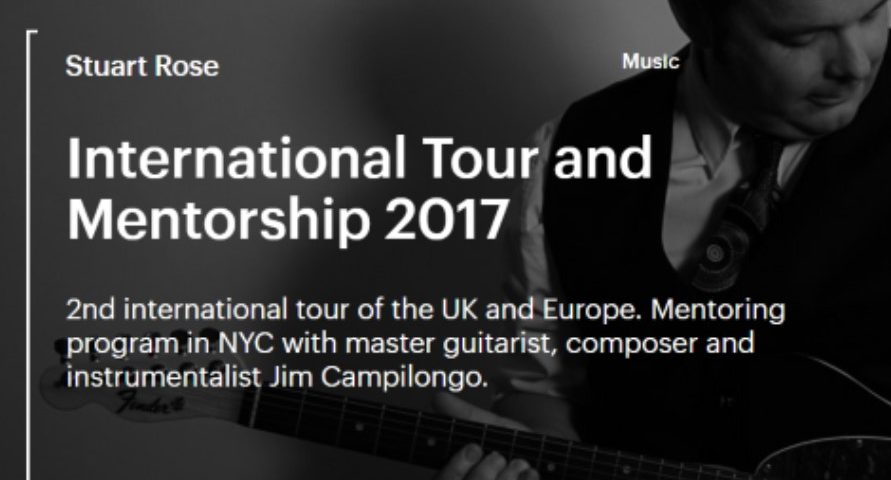 Hi Music Lovers,
Recently the Education Minister in Australia described formal training in the Creative Arts as a "lifestyle choice", not a legitimate career path. This is ironic, as I prepare to embark on a mentorship program in NYC with my guitar teacher, Jim Campilongo.  I'm always working at my music and continually seeking to go to the next level in my music career – lifelong learning is integral to that. Even as I am about to tour in Europe for the second time, in 2017, is what I do a lifestyle choice Mr Birmingham?
I heard Elizabeth Gilbert, the author of Eat, Pray, Love speaking at Adelaide Writers' Week a couple of years ago. She was talking about how she survived before she became a best-selling author and that she sold secondhand books at markets and worked part-time jobs in order to get by as she worked at developing her craft. The wisdom she imparted to the festival audience, about being a productive rather than typically starving artist, was to find work which supports your art, rather than relying on your art to support you.
This is true and I'm lucky to have stable part-time employment, my day job, doing marketing and promotion in the Arts. This allows me enough time in the afternoons and evenings to work on my real job, being a musician. And I don't starve!
But, as Julian Burnside QC writes in his excellent short essay on Patronage on the Arts in Australia, artists do need to seek funding in order to thrive and not just survive. Funding for the Arts from governments is continually dwindling as neoliberalism holds sway. So, more and more artists are looking towards crowd funding and philanthropy as a means to help fund major projects.
I'm am too! I've launched a project with the Australian Cultural Fund (ACF)  in order to raise money towards my international touring and mentorship program. The great thing about fundraising through the ACF is that donations over $2 are tax deuctible! Here's the link if you might be interested in contributing (and writing-off some taxable income):
So, I've been promoting my ACF fundraising project on social media and, you guessed it, I got trolled. This guy posted a comment saying, "You musos always have your hand out for hand-outs. Stop being a scab, get off your ass and get a real job!" Well mate, I do. And I have been working nights doing house painting for extra cash too. Plus I do gardening work on weekends. Then I'll be doing night work doing production at the Adelaide Fringe Festival – all to help fund my real job of being a musician.
It's a huge undertaking, creatively, logistically and financially, to tour internationally and any financial contributions to my ACF project  (did I mention they are tax deductible?) would be very much appreciated (and spent wisely).
Cheers,
Stuart