"He is a master of sounds and poetic virtuoso"
- Westfälische Anzeiger
BIOGRAPHY
Evocative, melodic, creative and poetic, Stuart Rose is an Australian singer-songwriter and multi-instrumentalist who creates a mix of Contemporary Folk, Jazz Blues and World Music, beautiful songs and sensational instrumentals.
With warm smoky vocals, guitars, bouzouki, flutes, didgeridoo and loops, his original and improvisational style creates uniquely soulful music. Having explored many different genres of music, Stuart's compositions now graft and blend musical styles, developing fusions that intersect generic boundaries – be that a Jazz guitar break and flute solo in an Alt-Country song, for example, or moving between, even combining Western & Eastern music, including Celtic, Appalachian, Andalusian, Latin and Aegean traditions.
In September 2017, he completed his second international tour, with performances in NYC, London, Amsterdam, Hamburg, regional Germany and festivals in the UK, Netherlands and Germany. After initially touring in the UK and Europe, as three piece band The Moor Rose in 2013, this second international tour (first solo tour) was a resounding success and he will be returning to tour again in 2018.
Other performance highlights include sold out shows at Adelaide Guitar Festival (2016), WOMADelaide (2013) performing with Heather Frahn, Adelaide Fringe Festival (5 out of 5 star reviews), and Bar Oussou, Melbourne's finest World Music venue. He regularly performs at Marion Cultural Centre, Adelaide and for the Arts In Health program at Flinders Medical Centre.
Releases include: SEEDS OF SONGS EP (The Moor Rose, 2011) – "utterly enthralling…combines traditionsmagnificently" (Leicester Bangs UK); HEARSAY EP (The Moor Rose, 2013) – "rich musical tapestries… punchy and passionate" (FolkWorld, Germany); DESERTS & DALES EP (solo, 2017); and an album is in preproduction for release in 2018, ahead of my next international tour.
PRESS AND TESTIMONIALS:
"He causes goose-pimples with his voice… and creates a beautiful musical painting." – Westfälische Anzeiger, Germany.
"A master of sounds." – Reinhard Potschinski, Music aus aller Welt, Germany.
"His performances were excellent – audiences were highly impressed and moved by his musicianship and compositions." Brigitte Rennie, The Mosaic Cat, UK.
"Wondrous." – Ian Newton, Rip It Up magazine.
SONGS:
"Every heart sings a song, incomplete, until another heart whispers back. Those who wish to sing always find a song. At the touch of a lover, everyone becomes a poet." – Plato
SOUNDS:
Inspired by Thierry "Titi" Robin, Ernest Ranglin, Jim Campilongo and Daniel Lanois…
"Music fills the infinite between two souls." – Tagore
INFLUENCES:
Luka Bloom, Glen Hansard, Ray LaMontagne, T-Bone Burnett, Peter Gabriel and Ry Cooder…
GIG REVIEWS  – EU TOUR 2017
Otmar Alt, Hamm Germany 19/8/17
Musik aus aller Welt Flierich, Nordrhein-Westfalen Germany 18/8/17.
Thanks to Able Agency for doing my bookings.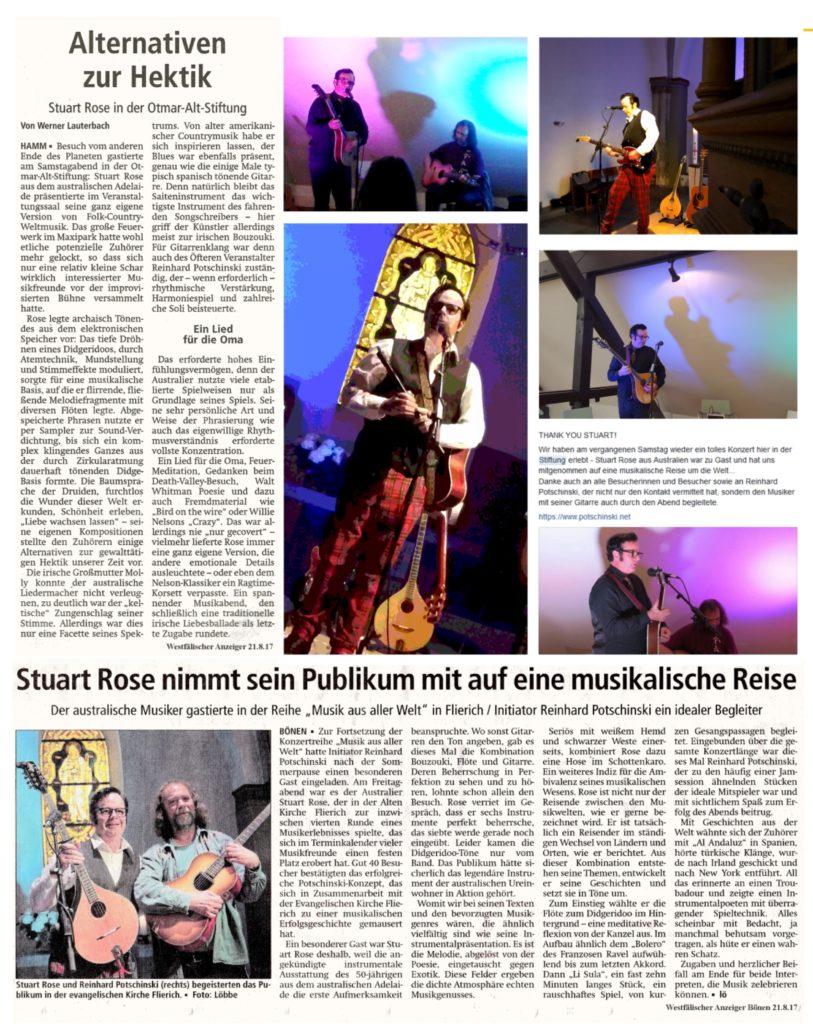 GIG REVIEW – GERMANY 2013