A very special afternoon Garden Concert in a stunningly beautiful setting – Patricia and Wouter's farm in Vianen, Netherlands (just outside Utrecht). I'll be joined by Gio Vogelaar on percussion. SWEET!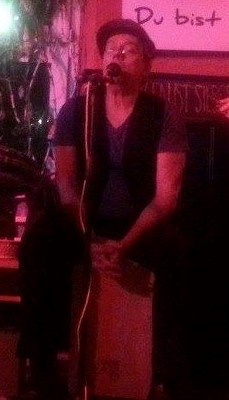 Gio Vogelaar was playing his first drum allready when he was 3 years old, but when his parents wanted him to play in a Harmony Corps, playing and walking on the streets, Gio refused to play any longer, cause he never liked "uniforms". But at the age of 22 he picked up playing all kinds of drums and percussion during his study Fysical Education. 
At the age of 35 he started a small course playing the drum kit and from that moment he developed his sense of Rhythm as an autodidactic with different kinds of percussion instruments.
Now he gives workshops for kids, but also adults in playing African drums, bodypercussion and all kinds of rhythm with all kinds of utensils. People like for example very much to play the "cup song", together in groups and it's such a simple way to have much fun together!
The last three years he does a percussion project of one week, at a school for special needs education in Austria, every May. 
Gio doesn't mind about a perfect technique, but thinks the most important is together playing from the heart and having fun!